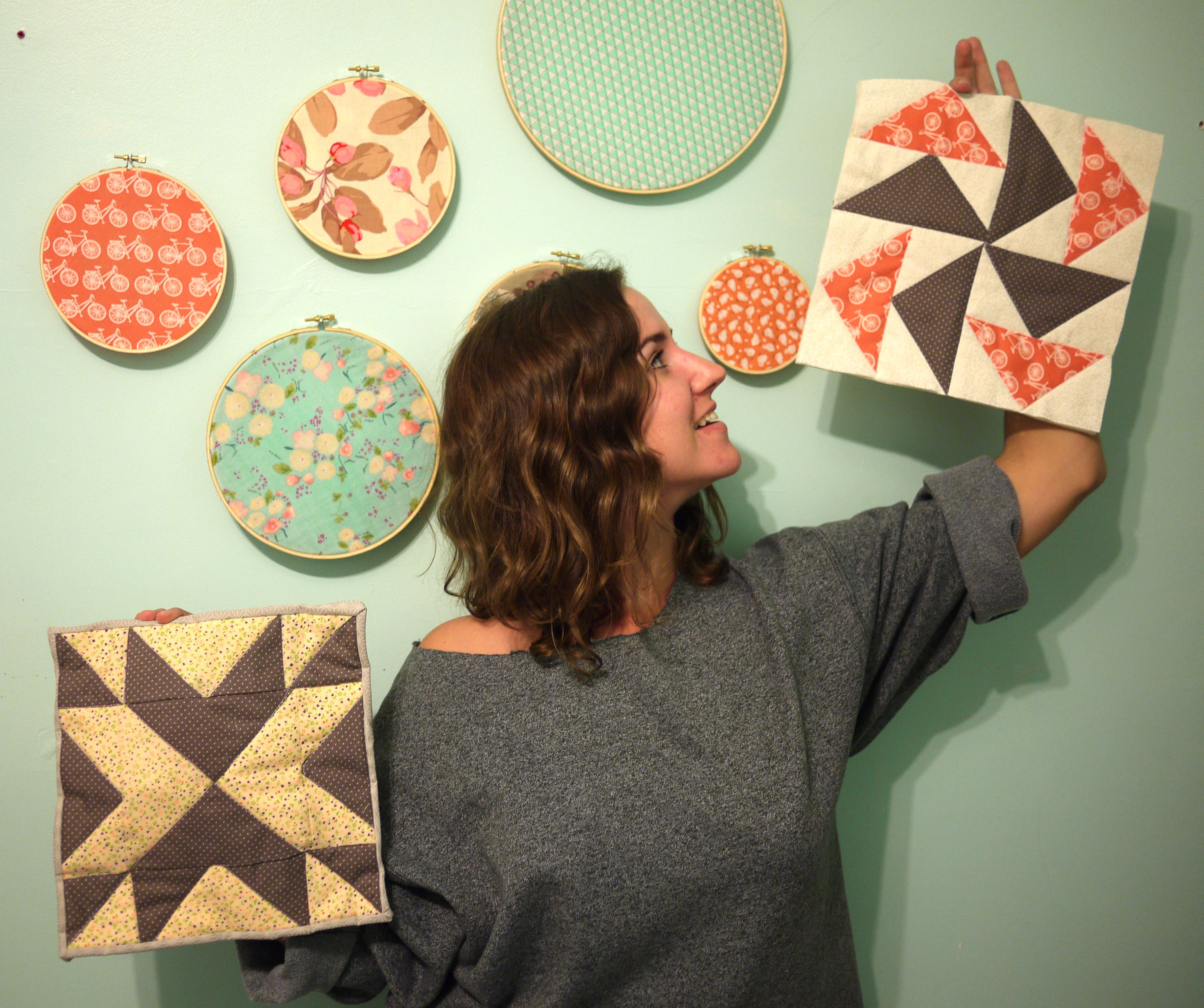 This four-part workshop will walk you through the basics of pieced quilting – you will choose, prepare and finish your own 12″ pieced quilt block design, and will be well prepared to tackle your own full-sized quilt once you finish this course. You can use your finished 12″ square as a potholder, trivet, mini "wall quilt" or inspiration for a larger quilt project!  Beginners are welcome, and this also is a perfect second class for those who have taken our sewing fundamentals class.  If you have 3 or more people interested in taking this class, please contact us, and we can arrange a custom class at a time that works for you.
INTRO TO QUILTING
This class runs for 4 weeks and each class is 2 hrs.
Course fee is $160 + HST (or $170 + HST including $10 optional supplies fee).
Click here for upcoming dates and to register online, or email themakeden@hotmail.com with any questions.
Teacher: Linda V
Class Outline: (4 weeks/2hrs each week)
Class One
Intro to quilting – types of blocks, possibilities for combination, colour theory, etc
Choose your block design, and fabrics
Learn how to use a rotary cutter
Cut your block pieces
Class Two
Lay out your block design
Mark, pin and sew a "scant" 1/4″ seam
press seams open
Class Three
Construct a quilt "sandwich"
Bast through all three layers
Machine or hand quilt the layers together
Demonstration of "free-motion" machine stitching and "walking foot"
Class Four
Cut your own binding to match your square
learn how to sew binding and make "mitered corners"
Supplies & Materials
All necessary equipment for this class (rotary cutters / mats, rulers, pins, sewing machines) is included in the class fee. If you've paid for the ($10) materials fee in advance (or would like to pay it in person at the class), we will provide all necessary materials.  If you prefer to shop for your own supplies, here is a shopping list (note: the main thing we'll need for the first week is fabric):
2-3 colours of quilting cotton, 1/4 yard or "fat quarter" of each: Woven, non-stretch 100% cotton, light-medium weight, in solids and/or prints. Please try to pre-wash and iron your fabrics if you have the time.
disappearing fabric marker: You can get purple ones that disappear over time or blue ones that dissolve in water. In a pinch, we can also use pencil.
matching thread for piecing and quilting: we will use the polyester thread for machine piecing, cotton quilting thread if you'd like to hand quilt your square.
1/2 yard of quilt batting: Cotton and wool are the nicest, but polyester is fine for this project too
Optional / toys: rotary cutter + mat and sturdy grid ruler, clear template plastic
Upcoming Class Dates and Online Registration:
This class begins on Wednesday May 29th and runs for four weeks (May 29, June 5, 12, 19) from 6:00 - 8:00pm.
Available Spaces: 3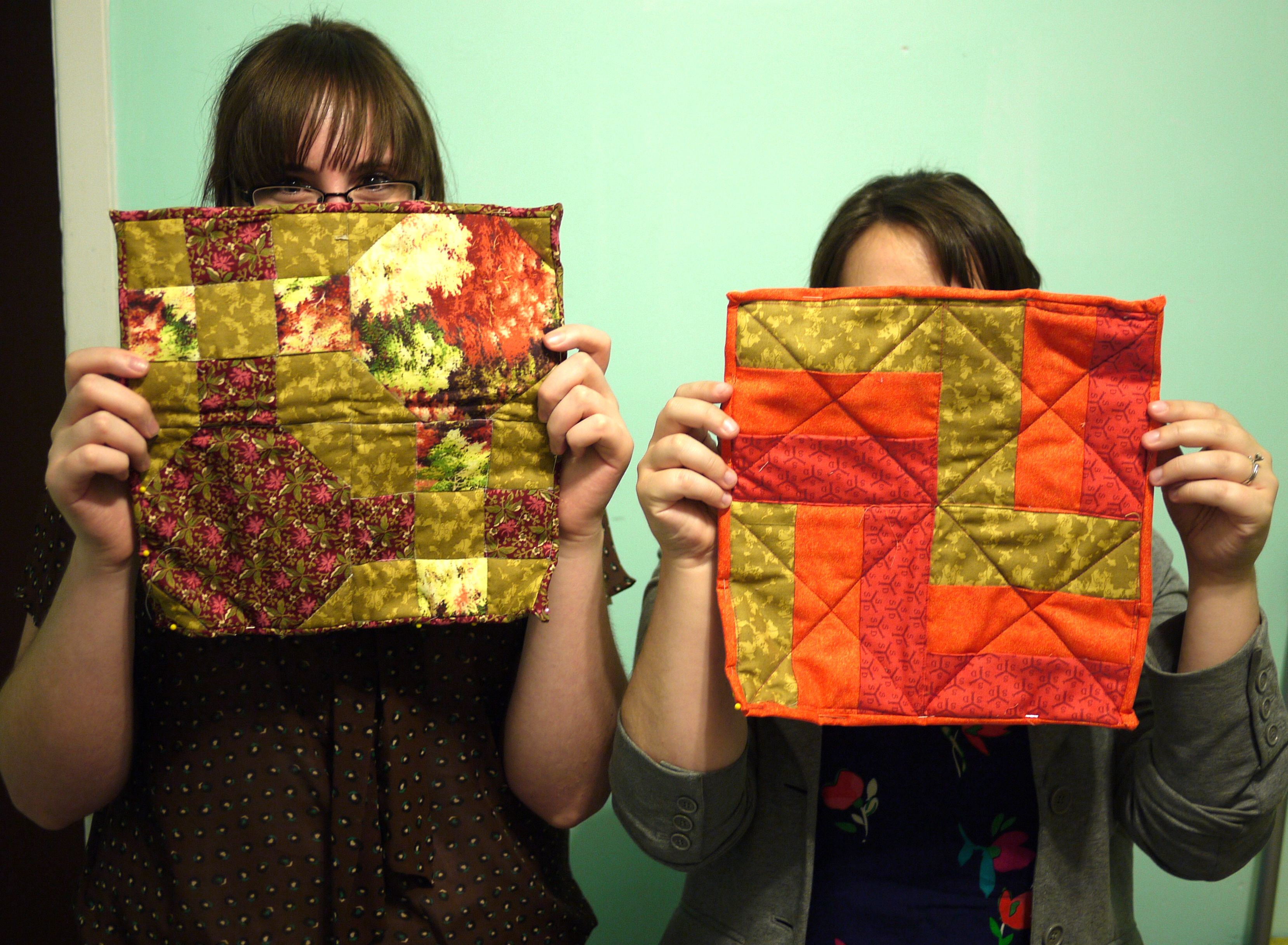 Current and former students are always invited to use our open studio time from 6-9pm on Friday evenings in addition to their regular class time. Click here to register online – space is limited.